Fear of knocking on doors?
If you're a door-to-door salesperson, chances are you probably face this fear from time to time.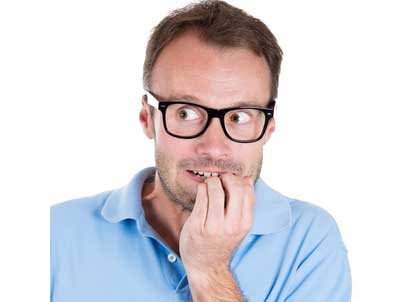 (Photo: Dreamstime.com)
Especially does this often occur after being away from selling for some time (holidays, illness etc.). Not only is it bothersome, but more importantly it cost you money as you waste valuable time. However it is usually easy to overcome. As soon as you have knocked a few doors, and spoken to a few customers that day it gets easier. The problem is just overcoming the first door..
More on: Door-to-door sales.
Here is a little "first aid kit" you might use whenever you face this fear:
1. Don't think about selling anything for a while. You only goal now is to knock 5 doors. Nothing else.
2. Stop your car, and do this super easy motivation technique (6 steps).
3. Drive up to the nearest house you see without judging how it looks, wondering what kinds of people who live there etc. Ring the doorbell without having a single thought in your head. If the person who opens turns you down, it doesn't matter. Try to keep the conversation going on other subjects than sales just to get your tongue warmed up so to speak.
4. At the next house you will feel even calmer. And at the fifth house, the fear will most likely be totally gone.
Here is another "trick" you can try to boost confidence and build up a "I can do anything"-mental state BEFORE you knock on the first door:
Do something out of the ordinary at a shop, coffee shop or restaurant before you start working. For example say that you would like to order a tuna fish pizza at a hamburger restaurant, while holding a straight face. Or walk up to the counter (after you have eaten the hamburger), and say that "this is the best hamburger I have ever eaten in entire life!).
Talk to strangers. Tell the person behind the counter a joke while you order food or coffee. Give somebody a compliment. Act like a comedian. Walk down a street crowded with people singing a silly song or speak out loud a line or two from Hamlet. Just do anything to get yourself out of your normal comfort zone.
Good luck, and happy selling!